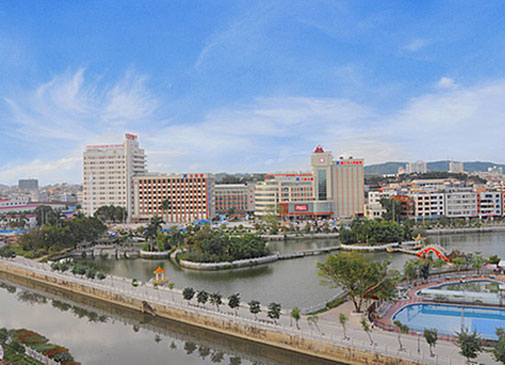 Lianjiang People's Hospital, founded in 1934, is the first party branch of Lianjiang County of the Communist Party of China. It is the key cultural relics protection unit and patriotic education base of Lianjiang City. The hospital, adhering to the red historical culture and carrying forward the glorious revolutionary tradition, has developed into a collection of medical treatment, scientific research, teaching and prevention after more than 80 years of experience and the unremitting efforts of generations of honest doctors. The three-level general hospital integrating health care and rehabilitation, the non-affiliated Hospital of Guangdong Medical College, the second-level first-class hospital of the state and the teaching point for postgraduates.
The hospital has a total area of 67,000 square meters, a planned area of 100,000 square meters, a total building area of 73,490 square meters, a total building area of 63,490 square meters for business buildings, and a greening area of 65%. It is a garden-type ecological hospital with unique humanistic characteristics.
Systematic overview:
Integrated Wiring System, Computer Room Engineering, Computer Network System, Data Center, Terminal Desktop System, Medical Image Transmission System, Cost Accounting Management System, Laboratory Management System, Defense and Unification Management System, Performance Management System, Hospital Leakage Control Management System, Ward Intercom System, Ward Emergency Call System, Medical HIS System, Operation Teaching System, Public Broadcasting System, BAS building system, energy metering management system, electronic medical record system, server and storage, PC and printer, etc.